Being profitable is an important marker of a successful business because, without profit, your business will cease to exist. This week, I'm sharing my top five ways that Ultimate Cabinet Components can help you create consistent cash in your business.
1. Convert Fixed Costs to Variable Costs
When you outsource your cabinet components, you convert a lot of your fixed costs to variable. Outsourcing saves money on overhead, labor, leases, equipment, and much more. Instead of spending a set amount of money each month, you can spend money only when you make a sale.
When you have more variable costs and fewer fixed costs, you'll have more cash on hand because it won't be tied up in overhead.
2. Frees Up Time to Create a Sales Process
Many shop owners overlook this benefit when they consider outsourcing, but it's an essential step to creating a profitable company. Outsourcing frees a shop owner to step away from the floor to create a consistent sales process.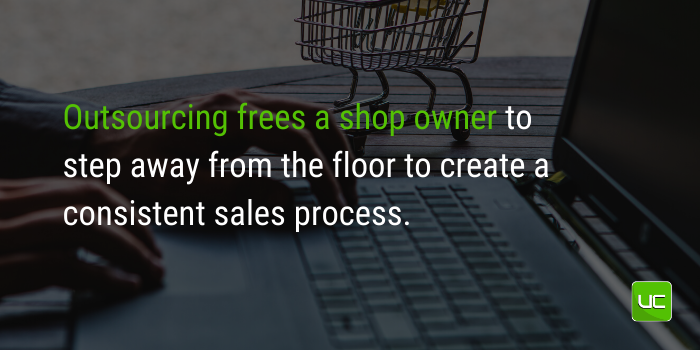 Shops with inconsistent sales processes face the vicious sales cycle: an endless cycle of feast or famine. First, the owner is selling like crazy to drum up work, and then the shop is overwhelmed with new jobs, so the owner stops working on sales and helps with production. When the shop finishes that batch of jobs, the owner goes back to sales because there's no work left to do.
Outsourcing lets shop owners work on sales every week or every day to develop a consistent process. Having a system for regular sales means more consistent cash.
3. Instantly Gain Capacity
Outsourcing allows shops to go after larger jobs than they normally could without outsourcing. Owners gain confidence that they won't be stretching themselves, their employees, and their equipment beyond their capacity when they outsource their components.


4. Lessen Capital Investment
When you outsource with Ultimate Cabinet Components, you spend fewer dollars on capital improvements, leases, inventory, and equipment. When your work comes in as components, then you don't have to take on all of the ancillary activities of manufacturing the components yourself.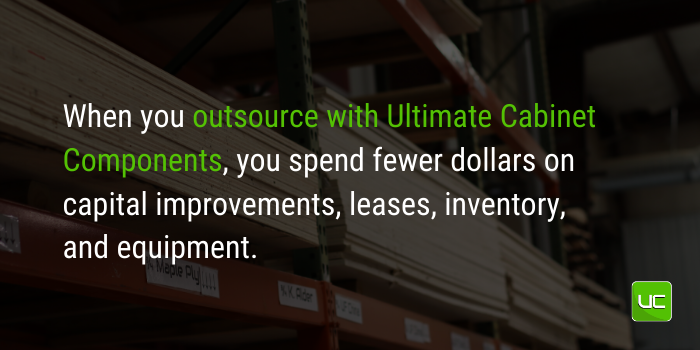 The effect on your capital investments is cumulative over time. The longer you're outsourcing, the larger the impact on your cash flow.
5. Lets the Business Owner Work ON the Business, Not Just IN It
Working ON your business rather than IN it is huge for your company. As the owner, you owe it to your business to work on it, not just to operate inside it.
Owners need to grow better employees, grow their top and bottom line, improve their business to make it more efficient, and add value to it. Outsourcing gives you the time you need to focus on your business.


Are you ready to dive into outsourcing? If so, get a free Ultimate Cabinet Component sample kit.
Check out some of my other articles about outsourcing to learn more about Ultimate Cabinet Components.