I have been in the cabinet and component industry for 15 years and the majority of those years I have been either learning about outsourcing or implementing better systems in my operation to make our standardized processes more efficient. I've done this because I know that it's key to making it in the cabinet industry and because I have a hunger to get better every day.
During these 15 years I have tried every construction method for cabinets under the sun; from staples, confirmat, dowels, blind dado and screws.
If you have ever assembled frameless cabinets in any of the aforementioned ways you know about the frustrations that they bring. Either the are slow, require too much milling time on the machine, or dowels don't line up etc.
The biggest frustration though, in my opinion, is that they don't offer enough value to the end user to even make sense.
A hard promise to keep
My philosophy has always been that if you outsource your cabinet components to our company, then we will free your capacity up to double in size with no further investment or labor.
That is a hard promise to keep if the customer has to buy a case clamp, or glue machine, or some new equipment just to assemble cases. We needed a game changer to help us make good on that promise.
Along came Lockdowel.
The rta cabinet Game Changer
About 2 years ago I got hooked up with Lockdowel out of California. A friend of mine actually went to work for the company and he sent me some info. He knew what I had been trying to accomplish for years.
I made the trip to Cali in short order and before you knew it, we were one of their earliest adopters. It was not exactly the easiest road, but no doubt worth it in the end.
The strength we saw in the Lockdowel product is that it could offer shops an alternative to traditional face frame cabinets with no added expense. Also, with easy and fast assembly, there is little to no learning curve to get going. So, it could be an additional source of revenue that many shops pass up because it is not something they would normally take on.
For our company to keep the promise to our partners of doubling their capacity with no further investment, we had to not only save money for our customers in the milling process but the assembly as well. Using Lockdowel tech in our components now allows us to to confidently keep that promise.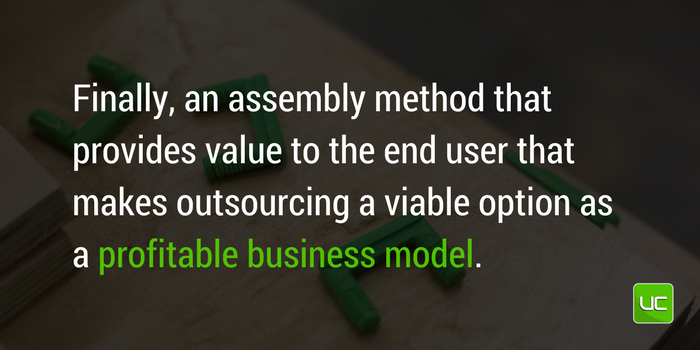 Finally, an assembly method that provides value to the end user that makes outsourcing a viable option as a profitable business model. Now our customers can assemble cabinets 65% faster than before and achieve the same or better strength as with other methods.
rta cabinets online
After the "Ah ha" moment of Lockdowel, we got hooked up with Allmoxy and produced a high quality online catalog for selling our components.
Allmoxy was the only solution that could handle not only the ordering, but the shop fulfillment of the orders as well. Although it takes a good bit of set up, it is a very customizable system and the possibilities are endless.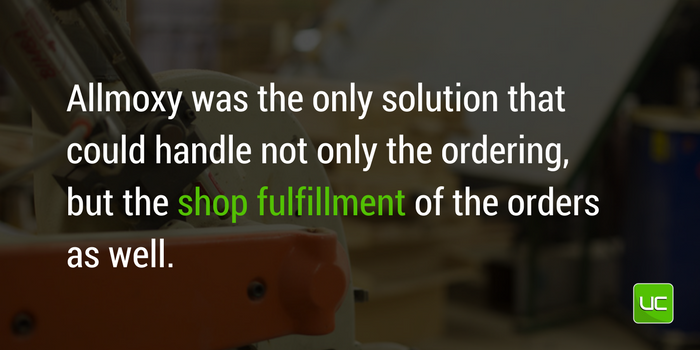 Allmoxy fits with our vision of efficiency as well. For us to be the most efficient we need our customers to be able to efficiently order cabinet components from us online. Allmoxy provided the perfect solution for that.
you win, we win
I am a firm believer that outsourcing can help you defeat the vicious sales cycle only if the customer and the outsource supplier are truly partners.
Our partnerships with Lockdowel and Allmoxy, along with our vision of being the most efficient cabinet component manufacturer in the world, have put us in the unique position of becoming your partner in business because they allow us to keep our promise.
Every customer to us is a partner, a partner that we get to know very well over the course of time, a partner that is committed to your growth just as much (or more) than ours.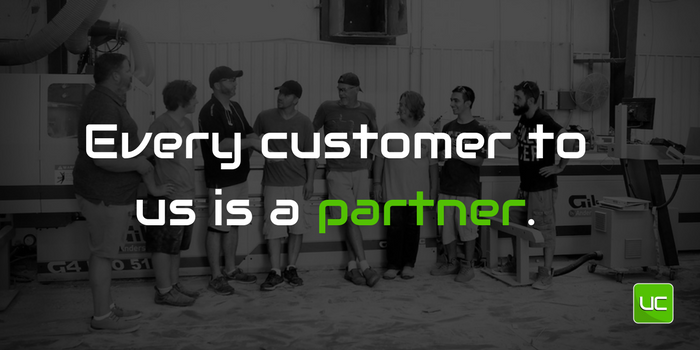 If you win, then we all win!
rta cabinet success
If you're tired of frustrating construction methods, try out the RTA cabinets that don't slow you down. We want you in our corner fighting the good fight with us.
Try it out for free by ordering a sample kit. Or, no harm, no foul in creating an account and working up a few bids. Save them for later and order them if you desire.
What has your experience been with RTA cabinets? Are you hesitant to try something new and different? What are your biggest reservations in outsourcing your production? Let me know your thoughts in the comment box below or send me a message here.